The Miocene (roughly 23 – 5 mya) was overall warmer and wetter than our present global climate, but temperatures declined throughout the epoch. Significantly, Africa collided with Eurasia enabling the spread of plants and animals. Tropical forests formed a continuous belt from Africa through Eurasia enabling the newly evolved Ape species to proliferate and diversify throughout the region. During the Miocene there were nearly 30 genera and over 100 species of apes, varying widely in size, diet and anatomy. Miocene apes have both ape and monkey characteristics making relationships between fossil species and modern primates difficult to sort out.
Proconsul is a well-known genus from the early-middle Miocene (20 – 18 mya) in East Africa. Like the apes it has no tail, but unlike apes its fore and hindlimbs are the same length and its shoulder and arm are not adapted for suspension.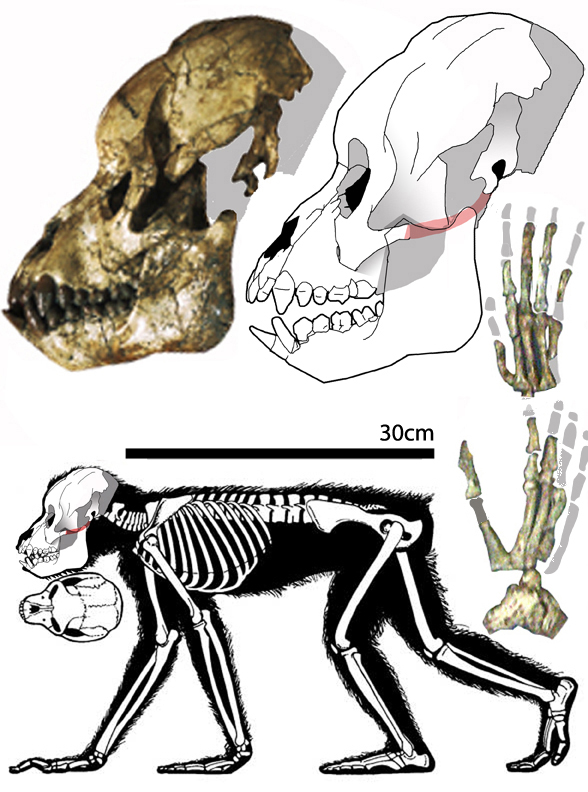 Morotopithecus, which existed at roughly the same time and place, and had much longer forelimbs that were adapted for suspension and vertical climbing. Morotopithecus is believed to represent the earliest fossil find we have locomotion patterns similar to contemporary, living apes, and even perhaps hint at the earliest instance of partial bipedality. Unfortunately, the fossil record of Morotopithecus is quite fragmentary, limiting the possibilities of comparative analyses.
Examine the following specimens to make the following comparisons (Proconsul, Morotopithecus (similar to Dryopithecus), Chimpanzee, Gorilla, Old World Monkey,).