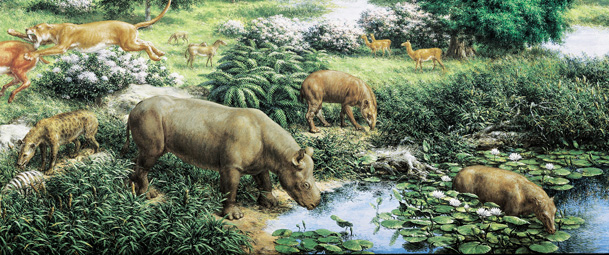 The Oligocene lasted from about 34 to 24 million years go, and was a time of transition during which ecosystems started to adopt their modern appearance. Continental drift permitted ocean currents to circulate differently, changing global climates and climatic zones. Grasslands expanded, temperate deciduous forests expanded in the northern and southern hemispheres, palms and other tropical species retreated closer to the equator and polar ice caps increased, lowering sea levels.
Our best evidence for Oligocene primates comes from the Fayum, currently a hyper-arid desert in western Egypt, between the Eocene and Oligocene. In Oligocene times the region was warm, wet and seasonal with abundant forest vegetation, wetlands lakes and streams. It contains one of the most diverse primate communities ever documented that included prosimians, omomyids, and anthropoid primates. Many, many primate species lived there and it is here that we have the most evidence for the evolution of the Anthropoids. This is the age of Monkeys.
Classic Oligocene Primates
The genus Apidium includes small (about 2 lb), arboreal quadrupeds similar to a squirrel monkey, that appeared around 36 mya. Some researchers believe an animal like it may be ancestral to both platyrrhines and catarrhines.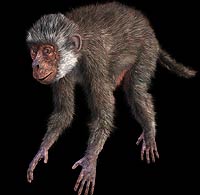 The genus Aegyptopithecus, appeared somewhat later (33 mya). It was a medium-sized monkey, perhaps as big as a female howler monkey (6 kg or 13.2 lbs.) It was likely a diurnal, arboreal quadruped. Aegyptopithecus is most likely an early catarrhine, and may be ancestral to both Old World monkeys and hominoids.
Compare Aegyptopithecus and Apidium to the prosimian and anthropoid specimens provided and complete the table below.
Aegyptopithecus (easy to remember Oligocene Primate name: Egypt = Fayum)
Apidium. Fun Fact: Apidium was named for the Egyptian bull god, Apis because early researchers thought it was a tiny cow
Station 4 Reflection Questions:
In which features is Apidium similar to a New World Monkey?
In which features is Aegyptopithecus similar to an Old World Monkey?
What kind of emphasis do you think Aegyptopithecus placed on vision? Why?
Do you think that Aegyptopithecus should be classified as an anthropoid, and if so, as acatarrhine or platyrrhine?